Distribution Center Outsourcing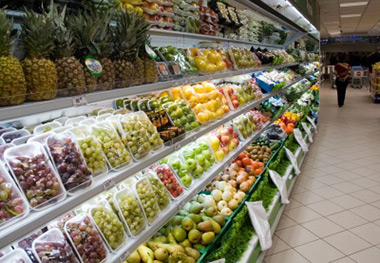 Transfer logistics to outsourcing significantly enables retailers to reduce costs and optimize the products distribution system at all stages. organized DC provides significant increase of profitability of the business.
The main functions of the DC are: accumulation of goods within a short time from suppliers, acceptance, storage, sorting, picking and shipping of goods. DC as well as EDI-center, receives and generates all the information about the range and quantity of goods, receives delivered goods, stores, completes and smoothly distributes products between retail chain of sales outlets.
Goods processing speed and following internal instructions from the supplier and the recipient are very important for DC work.
Fresh & Frozen 3 PL-operator Ukrlogistics has an extensive experience in organizing of outsourcing for DC of largest retail companies: METRO, "Velyka Kyshenya", "ATB", "BILLA", "WOG", "EKO". Ukrlogistics was one of the first logistics companies who have offered to retail chains the professional outsourcing distribution centers for fresh, frozen products and fruits and vegetables.
First outsourcing distribution center for retail chain TM " Velyka Kyshenya" based on capacity of Ukrlogistics was opened in 2009. In 2010, the first distribution center for retail chain "ATB" was created, in 2012 it was opened a distribution center for retail chain TM «METRO» (Frozen goods).  In 2014, the distribution center for retail chain "BILLA" was created. In 2015, the distribution center for retail chain "WOG" was created. In 2015, the first distribution center for retail chain "EKO-MARKET" was created. In 2016, the distribution center for retail chain "VARUS" was created.
Organization of work through the DC reduces the cost of shipping by consolidating deliveries and improving customer service logistics in the region (to provide more rapid and complete satisfaction of their requests) that will help to improve the company's position in the market and increase its revenues. As a result the warehouses space of the physical storage and transfer of goods are converted into centers of streamline trade flows.
Logistics organization through distribution centers has following advantages:
Expanding trade area up to 30%, due to the transfer of warehouse space into shopping areas
Increasing of income up to 10% of DC turnover by increasing the presence of goods on the stock shelves
Receiving from suppliers the additional discounts on cost of goods while supplying the goods to the DC
Increasing of turnover and handling of trade stocks
Ensuring the availability of goods on the stock shelves during the peak holiday periods of sales and promo offers
Ensuring the quality of goods by organizing centralized quality control service
Reducing transport costs by simplifying and reducing the costs of cooperation of retail chain and suppliers
The company Ukrlogistics provides services of professional outsourcing of distribution centers operation in the segments of fresh and frozen products (Fresh & Frozen). It has all the necessary resources and technologies to ensure the highest quality service, taking into account business processes optimizing and fulfilling all the requirements of clients.