About Company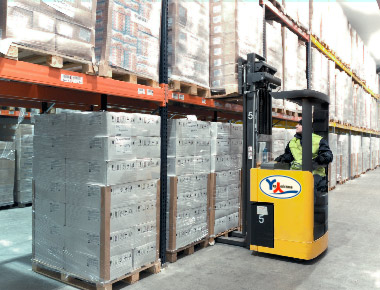 History
Logistics Subsidiary of the international company VICIUNAI GROUP in Ukraine has served as the basis to establish ukrlogistica.localhostpany.
Logistics market analysis for foodstuffs in the temperature range of -20 ℃ to +6 ℃ has shown high demand and prospects to develop this direction. So it was decided to establish a separate company providing a full range of logistics services (warehouse handling, storage, delivery, documentary escorting) on the territory of Ukraine, and international carriage.
Also we have determined the main priority for activities of our Company: it's the quality of services provided, taking into account all the wishes and demands of our clients.
ukrlogistica.localhostpany was founded on the principles to conduct business in the European manner according to the international standards and the use of advanced technologies. List of provided logistics services allows our partners to fully concentrate on their principal activities, entrusting the entire chain of logistics operations to professionals. Offering high-quality services, we serve many customers – from small retail outlets to supermarkets and hypermarkets of all national, regional retail chains throughout Ukraine. We provide a full range of logistics services both for retailers, and manufacturers. Among our partners there are such companies as: Foodmarket ("Velika Kishenya"), ATB-market, WOG-RETAIL, LLC "Omega" (TM VARUS), Vichunai Ukraine («VICI»), 3 Vedmedi, PC «Lvivskyi kholodokombinat» ("LIMO"), Concern Khlibprom PrJSC, LLC "NOVUS UKRAINA" (TM NOVUS), LLC "MANTINGA UKRAINA" (TM MANTINGA) which are engaged in the production and sales of chilled and frozen foods.
The first Distribution Center for retail chain TM "Velika Kishenya" was opened in 2009.
The distribution center for chilly and frozen product groups of retail chain "ATB" was created in 2010.
The distribution center for retail chain METRO Cash & Carry was opened in 2012.
The distribution center for retail chain BILLA was opened in 2014.
The distribution center for retail chain WOG was opened in 2015.
The distribution center for retail chain EKO market was opened in 2015.
The distribution center for retail chain VARUS was opened in 2016.
The distribution center for BEL Shostka Ukraine was opened in 2017.
The distribution center for retail chain AMIC Energy was opened in 2021.
Today, our company provides integrated logistics services for more than 50 companies.
The high level of European service and the quality of services provided, as well as the busy clientele allows us to say with confidence: LOGISTICS IS ENTRUSTED US!
Geography
For today ukrlogistica.localhostpany carries out delivery of foodstuffs to more than 4,500 retail outlets throughout Ukraine in such segments as:
Distributors
Cash & Carry
Hypermarkets
Supermarkets
Small retail outlets
HoReCa
Head office, main warehouse premises of class "A" and the motor transport enterprise are located in Kiev.
Storage facilities and motor transport divisions of ukrlogistica.localhostpany are also located in large cities of Ukraine:
Dnepropetrovsk
Krivoy Rog
Lvov
Odessa
Vinnytsia
Ivano Frankivsk
Presence of regional business units allows us to carry out timely and quality delivery anywhere in the country within 24 – 48 hours.
ukrlogistica.localhostpany provides a high level of providing services with individual approach to each client!